UGGG! BORED BORED BORED!!! D: It's not really FUN to be bored. GAH! *slams head on desk* No one is on right now!! ;___; plus my stomach HUUUURTS. ;__;
its the one that woke me up at this crazy hour. x__o
ANYWAY ANYWAY enough about my sick stomach.
I sick. hai hai.
I think I should get a new layout. - . -; because I dont like it anymore....
even though Shige is cool. D: and super cool in this photo thingy.
i'm thinking about those pictures with KOYATO in pajamas. X3 maybe I should make a layout with those...urm...dorks. XD
Gosh. I'm downloading ALL *i think X3!!* OF THE NEWS CONCERT AND IT'S TAKING FOREVER ON THIS COMPUTER. D: it's been a hour or so. *dies* XD
I am downloading because i am special and I don't even need to go to the concert..urm..yet. X3 *squee*
BUT I WANT TO SEE KOYATO LIVE IN THEIR SPOTTY PAJAMAS!! XD
Toshi-kun *my big dog* came in while I was laughing about Koyato in those pajamas and he looked at me weird. O_O OH AND THAT REMINDS ME. Toshi may have to have surgery. ;_______; NOOOOOO! Yeah because they think Toshi has a tumor(spelling? o_o;) on her neck. *shivers* ITS SCARY WHOAH!! im CHO afraid because toshi is...Toshi!! his last person to take care of him really beat him up. T__T it was sad when we got him. he would run away from me when I tried to pett him but now hes okay...with only me and onee-chan.
he HATES my onii-chan for some reason. -___-;
and Mi-mi is genki. XD as always. X3 But Chika has to go somewhere. ;___; *she bit my aunt REEEALLY hard and she was bleeding* *huggs Chika* NOOO!! MY PUPPY!! :D
Anyway enough about things that make me sick...er. ;_; X3 I watched a little clip with Leah Dizon and Ryo and Yoko and..that other guy.
gomen. i don't know his name.
Ryo-chan was chy when she looked at him! Muahaha! >:D Yoko called her cute XD. someone said that on radio show Yoko called her cute *again* or something. o____o;; im not for sure because i didnt listen to it so i missed ooout. o___x
HAPPY BASUDAY TO KEI-KEI-CHAN AND KAME-CHAN!! :D Kei-kei!! You're CHO lucky to have the same birthday as Kazuyaaa~! LUCKY LUCKY KEI-KEIIII!! :D HOW ABOUT WE GO AND GO TO HIS HOUSE AND CELEBRATE YOUR BIRTHDAY AND HIS. XD MUAHAHAHAHA. *Ryo the psyco* AND WE GO CELEBRATE WITH RYO AND TESSHI AND MASSU AND....everyone else. XD *FWEE IM CHEWING ALOT OF GUM AT THE MOMENT SO IM HYPAAAAH!!!*
Oh yeah...my hamster died. NOOOOO RYOHEI-KUUUN!!! *cries* yeah i took her to this doctor place for pets and he said that...she had a weak heart....NOOOO! ;____; poor ryohei-kun! *I called her hamu-chan sometimes.* I woke up a few days ago *thats when she died* and didnt see her out and running around like she usually is *I give her a treat thing in the morning. X3 thats why* and she was in her little nest thing and so i looked and she was on her side and her lips were...EW cruzty. T.T I CRIED FOR 5 HOURS ON THAT DAY. But the bad part is...WE CANT BURRY*spelling?* HER. NOOO! onii-chan said to put her in a box and throw her in the garbage. I hiot him on the head for saying that. We burried Keita-chan when she died. BUT WHAAA!!!!
Once again.....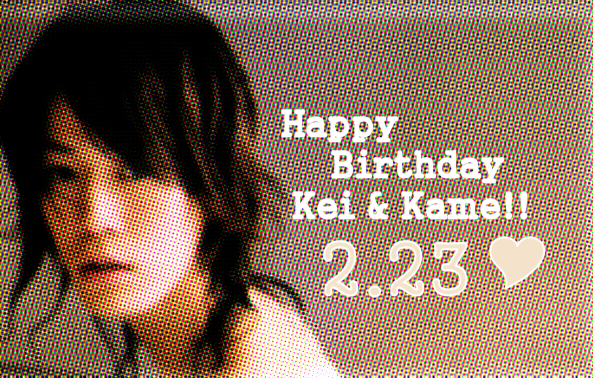 Current Mood:
silly
Current Music: KAT-TUN - Your Smile